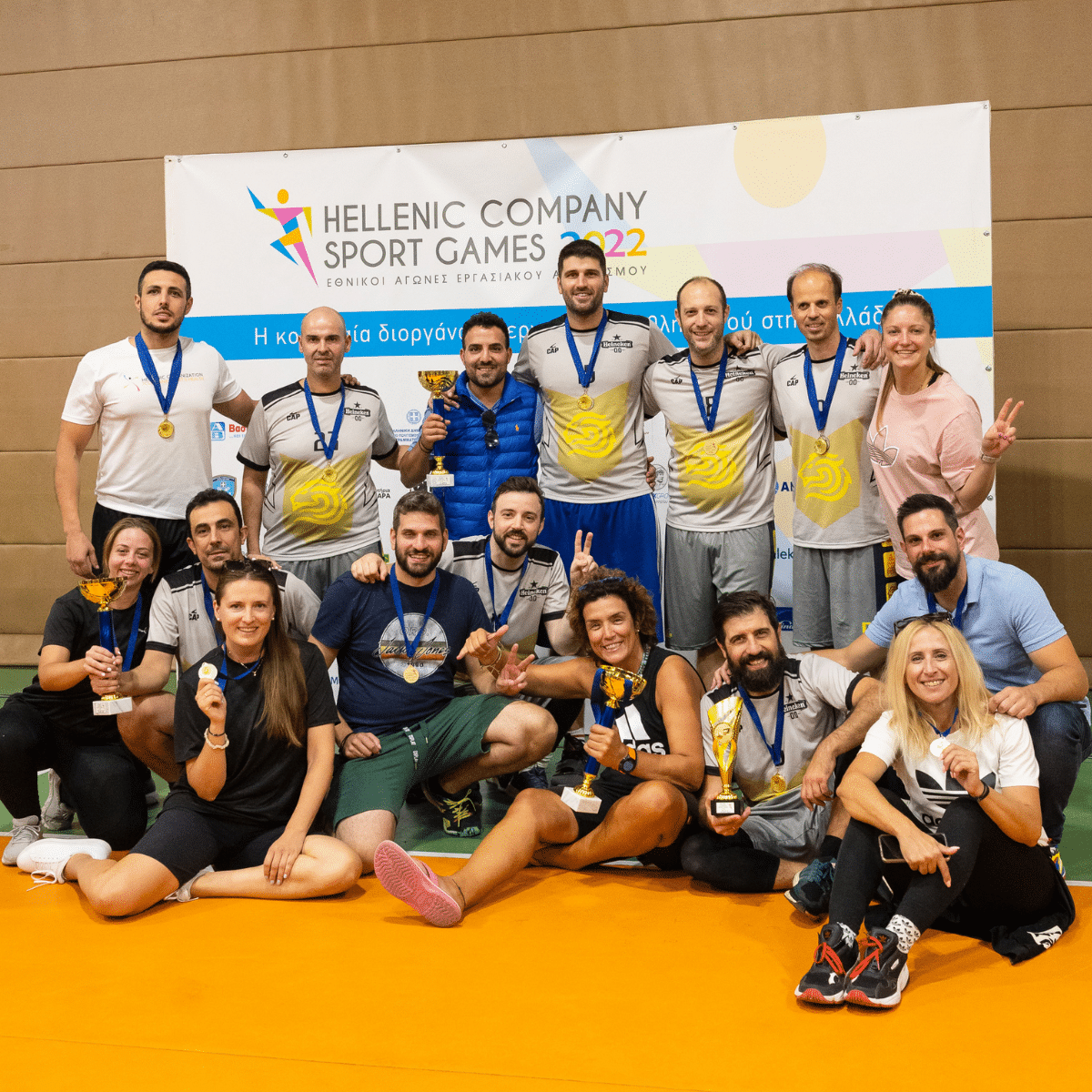 10th Hellenic Company Sport Games 2022
With a festive closing ceremony, full of enthusiasm and joy, the 10th Hellenic Company Sport Games have been completed.
From October 7th to 10th 2022, athletes-employees from 60 companies & organizatons took part in the Games, proving that company sports is an aspect of great interest in the working field.
The participants had the chance to meet with their colleagues and partners in great venues and fields,to bond, to compete while having fun in an athletic and healthy environment.
Well-known companies and organizations participated in the event and their employess competed with passion for the victory.
The main venue of the Games was the "Peace & Friendship" stadium, a venue of Olympic standards in Piraeus, while other games took place at the Ace tennis Club, Renti Arena Soccer Club, Strike Bowling Center and Game on Darts, all in the Attica region.
The sports, for teams & individuals, where:
Soccer 6Χ6
Basketball 5Χ5 & 3Χ3
Beach Volley 3vs3 & 2vs2
Pétanque
Tennis
Athens Company Run
Chess
Bridge
Padel tennis
Bowling
Darts
Table Tennis
The games where under the auspices of the Ministry of Cultural & Sports, the Attica Region, the Municipality of Athens and the Cultural-Sports-Youth Organization of the Municipality of Piraeus.
The supporters were the Commercial & Industrial Chamber of Athens and the Greek-German Chamber, while the administration of Henry Dunant hospital provided medical support during the games.
The Οperator of the event was SPORTCAMP sports training center.
The media sponsors were Gazzetta and Hellenic Daily News.
Volunteers supported and made the event possible. We thank them all for their great help!
The participating companies & organizations were: ΑΒ Vassilopoulos, ΑΒΒ, Athenian Brewery, Vogiatzis, General Secretariat of Sports, DELTA, Municipality of Athens, Directorate of Conservation of Ancient and Modern Monuments, Corinth Canal SA (Α.Ε.DΙ.Κ.), National Bank of Greece, Hellenic Police, Hellenic Coast Guard, "Lefkos Pyrgos" Transportations, G. Μalliaras SA Educational institutions, FOURLIS group, Financial Exchange of Athens, Cultural-Sports-Youth Organization of the Municipality of Piraeus, P.G. ΝΙΚΑS, Pericles Dimitriou (from Cyprus), Endochora magazine, ΣΟΛ Crowe, ΣΤΑ.ΣΥ., 3-PEAT, Agile Actors, Attica Petanque, Avis, Beverage World, Botanical Park & Gardens Of Crete, Chronos Shipping Co. Ltd., Cisco, Courier Center, DHL Express Hellas, Doctoranytime, Earth Science Analytics AS, ELEKTA Hellas, Enel Green Power Hellas, Globalsat, HELLENiQ ENERGY, KOUSgroup, Lalizas, Lamda Development, Lead on Board Intl, Lenovo Greece, Linde Hellas, LMM, Mantis Group, Media strom/Athenian Matress, MR HealthTech, Perrigo (Omega Pharma Hellas), SGS Greece, Sport Village Tour, Thenamaris, TNL Group, TÜV Austria Hellas, Wappier, ARKAS Hellas Group, as well as individual participations.
Watch the video of the Games HERE